Offering Marketing Research, Opinion Surveys, Focus Groups, Mystery Shopper Audits on Awareness, Values, Attitudes, Perception and Behaviour in Asia. Services include Customer Satisfaction Surveys, Employee Engagement Surveys, Advertising and Branding Studies, Awareness Knowledge Attitude Usage Research
COPYRIGHT NOTICE: Written permission has to be obtained from Forbes Research on the usage of Forbes NCSI (Public Sector) benchmarks.
NEWS:: July 18 2016
AWARD OF FORBES RESEARCH GOLD MEDAL 2015-2016
Congratulations to Mr. Khong Jia Jin (B. Accountancy & B. Business) of NTU who has been awarded the Forbes Research Gold Medal.
NEWS:: July 15 2015
AWARD OF FORBES RESEARCH GOLD MEDAL 2014-2015
Congratulations to Mr. Cai WenJie (B. Business) of NTU who has been awarded the Forbes Research Gold Medal.
NEWS:: Nov 11 2013
LAUNCH OF AGC PLUS SURVEY:
Plain Laws Understandable by Singaporeans survey
Forbes Research has been commissioned to conduct an online survey to gather response and suggestions on how the Singapore Statute Book can remain accessible and to improve the readability of our legislation. The survey will be opened till 12 December 2013.
NEWS:: July 4 2012
AWARD OF FORBES RESEARCH GOLD MEDAL 2011-2012
Congratulations to Mr. Tay Ming Hoe Ivan (B. Business) of NTU who has been awarded the Forbes Research Gold Medal.
NEWS:: May 3 2012
LUCKY DRAW RESULT FOR "SYSTEMS-W2" SURVEY
Congratulations to Ms. LP Lim (ISS NICF-Cobit course), who won the Lucky Draw held under witness.
NEWS:: April 14 2012
INCENTIVE FOR "SYSTEMS-W2" SURVEY
This is an invitation-only survey. Invitees should have received their passwords in their email. Invitees who submit their surveys by 25 April 2012 stands a chance to win a SAMSUNG Galaxy Tab P6800LSAXSP Silver 7in 16GB 3G WIFI Android Tablet (Without Contract) or Cash equivalent of S$800. Only valid submissions qualify, terms apply.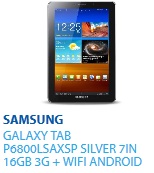 NEWS:: January 13 2012
STUDY ON POLYTECHNIC GRADUATES
This survey is closed. We will be holding the Lucky Draw sometime on the week of 16 Jan 2012. Please use the survey link in your email to view the results of the Lucky Draw. Winners will be notified.
NEWS:: August 27 2010
AWARD OF FORBES RESEARCH GOLD MEDAL 2010
Congratulations to Ms. Tan Siew Lin Phyllis (B. Business) of NTU for being awarded the Forbes Research Gold Medal.
NEWS:: February 10 2010
AWARD OF FORBES RESEARCH GOLD MEDAL 2009
Congratulations to Ms. Chua Xiao Ying (B. Business) of NTU for being awarded the Forbes Research Gold Medal. This award which is administered by NTU was given in recognition of her distinguished performance in the subject of marketing and marketing research. We look forward to having Xiao Ying joining the industry.
NEWS:: December 4 2009
HDB, CPF, POLYCLINICS, NLB, ICA...
DEFINING MOMENTS IN PUBLIC SERVICES
Many public services are of the low-involvement type. You use it and promptly forget about the encounter. No special impressions are formed. However, there are defining moments of service encounters that leave you with a strong impression of public services.
From the 2124 respondents surveyed, the following Ministries/Statutory Boards left an imprint which may be good or bad. These are the top 10 organisations that impacted the satisfaction score of public services:
| | | |
| --- | --- | --- |
| Ministry/Statutory Board | Number | Weightage % |
| HDB | 360 | 17.0 |
| CPF | 274 | 12.9 |
| POLYCLINICS | 257 | 12.1 |
| NLB | 193 | 9.1 |
| ICA | 171 | 8.1 |
| PUBLIC HOSPITALS | 144 | 6.8 |
| CDC & TCs | 143 | 6.7 |
| IRAS | 65 | 3.1 |
| MOM | 62 | 2.9 |
| LTA | 60 | 2.8 |
| Others also cited: PA, HPB, NEA, MCYS, AVA, SSC | | |
A substantial 360 respondents or 17% cited HDB as the organisation that left the strongest impression on them (may be positive or negative). This is followed by CPF, and the Polyclinics. The rest are listed in the table above.
To get a high Forbes NCSI (Public sector) score, the scores of these organisations have to improve, more so for those with higher weightage.
In coming releases, we will highlight those who scored above the Forbes NCSI (Public sector) Index score of 6.75 and those who scored below.
NEWS:: November 22 2009
HOW DOES THE PUBLIC ACCESS GOVERNMENT SERVICES
AND ARE THEY SATISFIED?
The vast majority (93.6%) of the public still access government services over the counter (OTC), 80.7% via telephone, and 54.2% used website and e-services. Less than half (46.2%) used letters and emails. While website and e-services may be more efficient, these cannot replace the 2 most popular channels anytime soon.
OTC has the highest satisfaction level, with 88.6% expressing satisfaction and a mean score of 7.09 out of 10. Satisfaction with service channel via telephone had 23.8% dissatisfied users and a mean of 6.58. Often, service channel via telephone first goes through the merry-go-round of AVRS, which has more dissatisfied users than satisfied ones.
One has to be circumspect when interpreting the scores for the different channels, as they are not necessarily equivalents. Qualitative studies have shown that telephone enquiries are a lot broader and less well defined. The public uses telephone calls or information from websites to screen and narrow down or identify the right agencies that can address their issues. So those who go down to an agency's counters have already narrowed their search. Their problems would also be better defined. The types of transactions and expectations, not to mention demographics are quite different for the different channel users.
e-Services have high satisfaction level. In fact, 44.8% gave at least an 8, out of 10. With e-Services, better service integration is possible. However, the challenge is how to get more of those who use OTC and telephone channels to use web-based services instead. The keys lie in awareness, ease of use/navigation, comprehensiveness of information, service integration, etc. Here is where usability testing of websites and e-services become useful. Please contact us for more information on usability testing.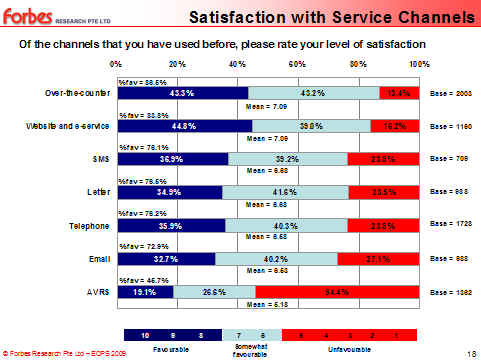 NEWS:: November 14 2009
Being passed from one government agency to another used to be a favourite complaint by the public. Sometime in 2005 or earlier, the government spoke of a "no wrong door" policy which aim was to provide seamless and integrated public services.
The 2009 Forbes NCSI measured the Accessibility Index at 6.81 out of 10. While close to 80% gave a favourable rating, about half are only "somewhat" positive and about 1 in 5 did not give a thumbs up.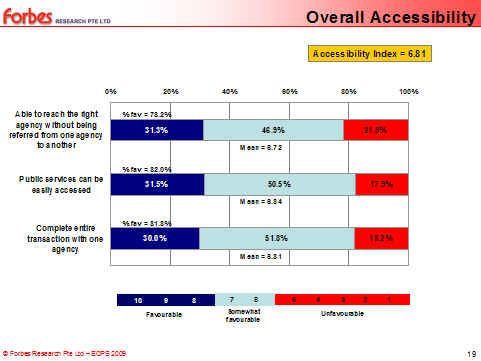 The NCSI consistency index measures how consistent public service is on service quality and reliability. The index is 6.52 which is average and opinions are divided. The overall take is that more has to be done to bring about a similar level of service across agencies.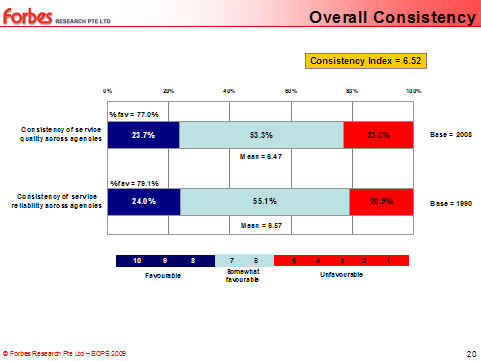 NEWS:: November 8 2009
As our office is currently undergoing renovation, there may be intermittent disruptions to our main telephone line.
Forbes has decided not to release the NCSI (Public Sector) report for sale. We will instead publish the findings online.
NEWS:: November 7 2009
PUBLIC SERVICES SATISFACTION INDEX COMPARED
Forbes NCSI satisfaction indices compared
| | | | | |
| --- | --- | --- | --- | --- |
| SECTOR | 2006 | 2007 | 2008 | 2009 |
| Retail (Major Stores) Satisfaction Index | 7.30 | 7.60 | 7.65 | Not avail yet |
| Public Sector Satisfaction Index | PSD | | | 6.75 |
Our Forbes National Customer Satisfaction Index (NCSI) which was developed with Spring Singapore between 2004 and 2006, have tracked customer satisfaction using a common set of questions that scored satisfaction items on a scale from 1 to 10. The higher the score, the better.
The NCSI Retail (Major Stores) have been fairly stable, starting with an Index score of 7.3 in 2006, it went up in the subsequent year but leveled at around 7.6 out of 10. The 2009 score is not available yet. Typically the percentage of Dissatisfied Customers average about 3% and Very Satisfied about 55%. The Slightly Satisfied group is about 42%.
We recognise that public services would not match the retail industry in terms of satisfaction scores because public sector agencies also have a regulatory / enforcement role. Besides, its product and service policies target the masses and are mostly not customised to specific segments or individuals. Also, customers often do not have a choice of service providers because for the masses, there are few alternatives to public housing, education, transport or health services. The one-size-fits-all approach, which is typical of public services, is a limiting factor in terms of achieving high customer satisfaction. Consequently, the percentage of Dissatisfied Customers stand at 16.2% and the Very Satisfied at 31% for public services.
Within the limits of its constraints, what level of improvements can public services target?
What should public services benchmark itself against?
Ideally the best benchmark for our 2009 survey would be the 2006 ECPS score. We are skeptical of comparison with overseas public services because the cultural aspects of satisfaction ratings have not been robustly addressed. From numerous surveys conducted over the past 25 years, we have found a cultural bias in how different ethnic groups and nationalities rate satisfaction. The differences are statistically significant even when the same statements and rating scales are used. What then is the basis to compare Singaporeanís (based on our mix of ethnic groups) ratings of our public services with, say, Americanís ratings of their public services?
Coming up next, Forbes NCSI (Public Services) scores on:
Satisfaction components: Accessibility, Reliability, Service Effectiveness, etc.
Outcomes - how public services affect the public's trust and willingness to collaborate with the agencies
We will also answer the question: Which agencies most impacted the publicís perception of public services?
NEWS:: October 31 2009
Straits Times HOME Page B9 "Thumbs-up for public services"
PRESS RELEASE:: October 29 2009

EIGHT IN 10 GIVE THUMBS UP TO GOVERNMENT SERVICES
Forbes (NCSI) Public Sector offers insights into general public's view of public services in Singapore
SINGAPORE - October 29, 2009 - Nearly 8 in every 10 members of the public agree that public services in Singapore are accessible, according to a recent independent study conducted by Forbes Research Pte Ltd. About 80 per cent of the respondents in the Customer Perception and Satisfaction Survey also said that the service quality and reliability were consistent across Government agencies.

Conducted between March and June 2009, the survey aims to offer an insight into the general masses' view of public services in Singapore. It mirrors the External Customer Perception Survey (ECPS) study commissioned by Prime Minister's Office in 2005/06, with some modifications to update the questions. The 2005/06 ECPS was designed and conducted by Forbes Research using the Forbes NCSI customer satisfaction framework.
The survey was conducted through face-to-face interviews with 2,140 randomly selected individuals to gauge the level of customer satisfaction when using Government services.
Among the various service platforms available, respondents who used over-the-counter services and e-services expressed the highest levels of satisfaction.
According to the results of this study, Government agencies' staff achieved high ratings for their effective services. Staff is knowledgeable in subject matter (7.12 of 10 points), able to understand customers' needs (6.95 of 10 points) and provide accurate information accordingly (7.08 of 10 points). Forbes NCSI also explored public interest in providing feedback and input to Government agencies. Although 65% of respondents expressed interest in providing feedback and comments regarding public policies, only 10.8% had participated in such feedback and consultation exercises.
Despite 90% of respondents expressing ease in contacting the appropriate officers and obtaining the required information, a third of the respondents felt that some agencies were still restricted by rules and regulations. While agency staff displayed flexibility to accommodate customer needs, the rules and regulations sometimes hindered their ability to deliver.
Forbes hopes government departments will strive to better these benchmark levels and improve their services to the public.
For further information, please contact us via "Contact Us" tab above.
Offering Marketing Research, Opinion Surveys, Focus Groups, Mystery Shopper Audits on Awareness, Values, Attitudes, Perception and Behaviour in Asia. Services include Customer Satisfaction Surveys, Employee Engagement Surveys, Advertising and Branding Studies, Awareness Knowledge Attitude Usage Research